Korisni Web servisi
Korisni Web servisi
Poslao: 13 Okt 2010 10:03

offline

Fil
Legendarni građanin

Pridružio: 11 Jun 2009
Poruke: 16586

Namena ovog (mog prvog) bloga je postavljanje (i moje i vaše) nekih korisnih online servisa kojim možemo, recimo, zameniti neku aplikaciju na PC-u i sl.

Ja ću, svakako, dopunjavati ovaj blog čim naletim na štogod interesantno.
Ovde ( http://www.mycity.rs/Internet-servisi/ ) ima nekih stvari, ali mi nije dobro organizovano/indeksirano.



--------------------------------------------------------------------
INDEX
--------------------------------------------------------------------



URL-Xray - saznajte gde vodi skraćeni link ! (ne morate kliknuti na link da vidite gde vodi) --> http://urlxray.com
ShortURL - skratite URL --> http://www.shorturl.com/make_url.php
EasyCalculation - Convert Hex To Decimal and Binary --> http://easycalculation.com/hex-converter.php
Webpaint - uklanjanje objekata na slici --> http://www.mycity.rs/Zanimljivi-sajtovi/webinpaint-online-obrada-fotki.html
Piknik - online photo editing --> http://www.picnik.com/
Sumopaint - uredjivanje slika http://www.sumopaint.com/home/
Befunky - primenite gomilu gotovih efekata na sliku http://www.befunky.com/
DropBox - deljenje foldera http://www.dropbox.com/
Comodo Cloud - http://www.mycity.rs/Internet-servisi/Comodo-Cloud-Dropbox-alternativa.html
ZumoDrive - backup dokumenata https://www.zumodrive.com/dojo
Gladinet - posetite sajt; skup servisa za backup i sinhronizaciju http://www.gladinet.com/
Nikel - dvosmerni recnik [SR][EN][DE][FR][SP][ITA][SWE] http://www.ni-kel.com/recnik/
EUDict - prevod sa oko 25 jezika na hrvatski http://www.eudict.com/
Online prevodilac - prevod 42 jezika ukljucujuci i [SR] <--> [HR] http://www.onlineprevodilac.com/
Metak - dvosmerni [EN] [SR] recnik http://www.metak.com/
Tube2Tune - konverzija YT klipa u melodiju za telefon www.tube2tune.com
Zamzar - konverzija slika,video, CAD, ..., http://zamzar.com/
(spisak svih podržanih formata: http://zamzar.com/conversionTypes.php )
Online OCR - izvlacenje teksta iz skeniranih dokumenata http://www.onlineocr.net/

WayBack Machine - kako je izgledala neka stranica u proslosti http://www.archive.org/web/web.php
(da vidimo kako je izgledao mycity kada se bobby pridruzio, 2003
http://web.archive.org/web/20030128125506/http://mycity.co.yu/
Na stranici mozete videti da je clan mycity-a bio i osnivac Bureka, Ivan Minic )

Cacoo - crtanje dijagrama http://cacoo.com/
EditGrid - online Excel editing tool http://www.editgrid.com
StumbleUpOn - otkrijte zanimljiv web sadrzaj prema preferencijama drugih http://www.stumbleupon.com/
Online fav-icon creator - kreator ikonica http://www.rw-designer.com/online_icon_maker.php
CirLat Convertor - dvostrana konverzija [CIR][LAT] http://dev.com.hr/hr/cyrilliclatin/converter
(ostali ćirilica, latinica: http://www.cirilicalatinica.com/ http://www.latinicacirilica.com/ http://www.preslovljavanje.com/ )
CodePageConverter - YUSCII cirilica na UTF-8 cirilicu http://www.datavoyage.com/codepageconverter/
Zoho - Online Document Management:Writer, Sheet and Show http://docs.zoho.com/jsp/index.jsp
(free se dobija 1 GB za jednog korisnika)
Calameo - Upload all major formats and convert them instantly in digital publications. It's FREE and unlimited! http://www.calameo.com/
FreeMyPDF - online uklanjanje zastite sa PDF dokumenata (podrška do 150 MB) (stampanje, kopiranje...) http://freemypdf.com/
PDF Unlock - program slične namene kao i prethodni http://www.pdfunlock.com/
Samuraj - besplatan preglednik za DOC,PDF i postscript http://view.samurajdata.se/
PDF2Excel - navodno najbolji konvertor za excel http://www.pdftoexcelonline.com/
PDF To Word Online - mnogo bolji konvertor od nekih desktop varijanti koje sam probao http://www.pdfonline.com/pdf-to-word-converter/
PDF-to-Word - reklamiraju se kao "the most accurate pdf-to-word" konvertor http://www.pdftoword.com/
PDF Hammer - besplatan editor PDF-a http://www.nitropdf.com/free/hammer/index.htm
PdfEscape - besplatan viewer i editor PDF-a http://www.pdfescape.com/
MathsOnline - resavanje brojnih matematickih zadataka online http://www.univie.ac.at/future.media/moe/onlinewerkzeuge.html
CometDocs - free online file converter http://www.cometdocs.com/
ScreenToaster - online screen recorder and capturer http://www.screentoaster.com/
SpyPig - utvrdite da li je vas poslati email procitan http://www.spypig.com/
Mikogo - remote control preko browsera
features: http://www.mikogo.com/product/features/#desktop
Netvibes - to-do lista, notes, sat, kalendar, kalkulator, vremenska prognoza, RSS i mnoge druge stvari u vidu widget-a link
GrooveShark - mžete praviti plejliste, slušati radio ... http://listen.grooveshark.com/
MessengerFX - online chat aplikacija [MSN, GTalk, Yahoo, AIM] http://www.messengerfx.com/
DownloadTube - download online video datoteka (sa youtube-a i sl.)http://downloadtube.org/
SkyDrive - backup slika http://explore.live.com/windows-live-skydrive
EyeOS - online operativni sistem! (Linux-alike) http://classic.my.eyeos.org/
GlideOS - online operativni sistem! (radjen u Flash-u) http://www.glidedigital.com/
Basecamp - za razvoj projekata (konkretno Web Development) http://basecamphq.com/
Ninite - brzo preuzimanje aplikacija i silent install http://ninite.com/
FreeApps - brzo preuzimanje aplikacija i silent install http://www.freenew.net/
Allmyapps - brzo preuzimanje aplikacija i silent install http://allmyapps.com/
Vocaroo - The premier voice recording service http://vocaroo.com/ (primer: http://vocaroo.com/?media=vWmZfv2KLGIlE2Fcd )
Pastebin - opis i link: http://www.mycity.rs/Linux-aplikacije/Pastebin-dodatak-copy-paste.html
Wkley - slicno kao paste bin sa mogucnoscu formatiranja - http://wklej.org/
Wolfram Calculations - razne vrste matematickih, fizickih, statistickih i ostalih proracuna! http://www.wolframalpha.com/examples/Math.html
Geogebra - odlican servis za ucenje geometrije i funkcija. Savrseno za srednjoskolce.
Online rad (klik na graf desno) je baziran na javi; postoji i mogucnost downloada) http://www.geogebra.org
Phonetic - pretvorite tekst u izgovor (fənɛ́tɪks.) http://upodn.com/phon.asp MyCity
ENGTest - testirajte, online, znanje engleskog jezika http://www.mycity.rs/Engleski-jezik/test-da-vidim-koliko-znam.html
Text to ASCII Art generator - pretvorite text u ASCII art. Gomila ASCII "fontova". Preporuka! http://patorjk.com/software/taag/
Online icon maker - napravite manju ikonicu za racunar http://www.rw-designer.com/online_icon_maker.php
Icon Maker - napravite ikonicu za racunar http://www.sherv.net/icon-maker/
Online SUB to SRT konverter - http://www.subsedit.com/convert
Radioteka - domaci indeks online radio stanica www.radioteka.org

Down4everyoneOrJustMe - http://www.downforeveryoneorjustme.com/
i Host Tracker - http://host-tracker.com/ --> Da li je Web sajt nedostupan samo za mene ili za svakog?

TypingWeb - naucite slepo kucanje online - http://www.typingweb.com/

Gledajte TV online
http://delicast.com/tv/Serbia
http://www.profreetv.com/

Game debate - za svaku igru postoji pri dnu sekcija: Can I run - http://www.game-debate.com/



---------------------------------------------------------------------------
Index tematskih jedinica u okviru ovog blog-a
---------------------------------------------------------------------------



Mrezni servisi --> link

Servisi za mobilne telefone --> link

Linux era --> link

Zanimljivo, ali ne bas korisno --> link

Online Operativni Sistemi --> link

AntiMalware Web Servisi --> link

Servisi za forume --> link

Online servisi za Vremensku prognozu --> link

Online Benchmark testovi --> link

Online učenje jezika --> link
Poslao: 14 Okt 2010 12:47
Mrezni servisi




- Skup mreznih servisa na jednom mestu:

Citat:Browser Sniffer
Web-based Dig
nslookup
IP Calculator
Probe Remote Host
Online Quizzes
Server Power Usage Calculator
TCP Dump Interpreter
Technical Terms and Definitions
Online Traceroute
Online Whois Tool

LINK: http://networking.ringofsaturn.com/Tools/



- Jos neki servisi na jednom mestu (kod nekih testova neophodna besplatna registracija):

Citat:Speed Tests - Test your maximum upload speed and download speed from several geographically distributed locations. Java, Flash and iPhone speed test (100% browser) available.
Smokeping - Intensively monitor an IP address for 24 or more hours to review packet loss and/or excessive latency variability -- from three different US locations
Line Quality - Ping Test - Test latency, jitter and packet loss to your IP address, including identification of any problems en-route to you.
Your IP address, IP whois - Get your current IP, track down owners of domains or IP addresses
Tweak Test - Test if your computer is setup correctly for broadband TCP connectivity
Doctor TCP - A windows utility for modifying your TCP stack. But: use DrTCP only in conjuction with the advice from the Tweak Test.
MOBILE Speed Test - Simple MOBILE speed test page. Optimized for tiny browsers. Visit http://text.dslreports.com/mspeed on your phone or PDA.
Wake your PC remotely - Wake your computer up from a remote location (for PCs that support this feature and do not have firewalls blocking UDP port 9)
Modem spectrum analysis - Speedstream and Motorola DSL modem spectrum analysis (5100b 4100 and 2210)
24x7 Line Monitoring - Does your ISP promise always-on? are you getting it? keep track of many aspects of your connectivity, and weekly reports as well
Doctor Ping - Compare your ping time to 100+ servers with the average for other users!
Bandwidth Calculator - Confused about unit conversions? want to see how long it will take to transfer a file at a certain speed? or how much data can be transferred in a given time?

LINK: http://www.dslreports.com/tools?r=419



- Skup servisa na jednom mestu, part III

Citat:ShieldsUP!
SecurityNow!
DNS Spoofability Test
Perfect Passwords
PPP passwords

LINK: https://www.grc.com/default.htm



Bandwidth test - http://www.testmyfirewall.com/bandwidth-test


ISUPME - proverite (pingujte) da li je neki sajt "pao" - http://www.isup.me/
// Primer: da li je pala fotkica.com --> http://www.isup.me/www.fotkica.com
Poslao: 14 Okt 2010 12:52
Web servisi koje mozemo upotrebiti za mobilne telefone




Mobyko - Your contacts, calendar, photos, videos & texts all safe on the web and in sync with your mobile http://mobyko.com/Home.do

Mobical - Mobical is a service that stores your essential personal phone data in a secure place – for free. Restore all information to a new phone
https://www.mobical.net/mobical/#start

Bloove - is an easy to use web-based mobile phone management system.
- Edit your contacts,
- send SMS messages
- work with your bookmarks using your favorite browser.
- Back-up and restore your data
- copy SMS messages and contacts between different phones.
Bloove works on over 300 J2ME, Windows Mobile, Symbian S60 and UIQ phones including Nokia, Sony Ericsson and Samsung.
http://www.bloove.com/en/

Anywr - sinhronizacija, backup kontakata, kalendara i svasta nesta
http://anywr.com/tour/

ThinkFree Online - Edit and Save MS Office Documents via Their Smartphones
[ opis ] http://member.thinkfree.com/member/goLandingPage.action
[Windows Mobile, iPhone, Android]

-----------------------------------
BUMP ! - Back Up My Phone !

BackUp In India On One Handset
Restore On Another Handset In The UK

What would you do if your phone lost on an trip overseas? With no contact information, you are likely to have a rough time at your new destination. We're not saying you should brace for disaster if you don't have some way to back up your phone data.


--> But we are saying it will be monumentally inconvenient for you to try to get all of your contact information when you are having fun time in another country.
--> Back Up My Phone is revolutionizing the way phone data is stored.


you can wirelessly backup, restore, and share all of the content you keep on your phones;

almost all makes and models of mobile phone, along with the networks they run on, are supported by BUMP app;


you are also able to get the phone backup services you need over a wi-fi connection. This allows you to avoid paying network charges.

http://www.bump.ac/View/welcome.do

Ovaj odlicni Web servis ne treba mesati sa aplikacijom BUMP drugog tipa:
http://bu.mp/






IMEI - saznajte o telefonu na osnovu IMEI broja --> http://www.imei.info/
Poslao: 14 Okt 2010 14:21
Jako koristan blog.



Kod mene je sve online, cloud fazon na vindozi.



Mejl, kalendar, kontakti, dokumenta, podsetnici, mesindzeri, muzika..

Za mejl, kalendar, kontakte i dokumenta koristim Google servise koji su svima dobro poznati.

Jedan od servisa koji često koristim je Netvibes. Tu na jednom mestu u vidu vidžeta imate to-do, notes, sat, kalendar, kalkulator, vremensku prognozu, RSS i mnoge druge stvari. Jako dobra stvar za one koji žele mnogo stvari na jednom mestu. Kreiranje naloga je besplatno.

Ovako to otprilike izgleda, s tim što stavljate vidžete po želji: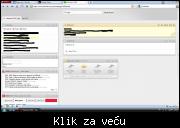 Za muziku koristim Grooveshark. Odlična stvar. Možete praviti plejliste, slušati radio..

Za mesindžer koristim MessengerFX. Koristim ga retko ali odlično radi posao. Podržava četiri najpoznatija servisa, MSN, GTalk, Yahoo i AIM.
Poslao: 15 Okt 2010 14:45
Napisano: 15 Okt 2010 14:37

Jako, Jako koristan blog.... Kao sto rece rapha, od kako sam dobio jaci net trudim se da se potpuno preselim na oblak



Pa da pocnemo... nije fora da kacim sajtove koje sam izguglao vec koje sam koristio.. i to bih savetovao svima u svojim buducim postovima... Znaci da ne bude copy paste blog...

1. Backup slika : http://explore.live.com/windows-live-skydrive

2. OS : http://classic.my.eyeos.org/ , http://www.glidedigital.com/

3. Bekap dokumenata : https://www.zumodrive.com/dojo

4. Sinhronizacija : http://www.gladinet.com/


Kad se setim jos necega javicu



Dopuna: 15 Okt 2010 14:45

Manijak

Poslao: 29 Okt 2010 14:44
Linux era




Ovu poruku cu editovati svaki put kada naletim na neki dobar servis moje ere surfovanja Linux-om.

2SRT 2ASS - servis za prevode (subtitles) http://pas-bien.net/2srt2ass/
--> gledajte film u Linux-u (ali i Windowsu) sa dvostrukim subtitle-om (engleski/srpski)

Diskusija o tome je u ovoj temi: http://www.mycity.rs/Linux/Video-Player-sa-dual-subtitles-podrskom.html

(imate i sliku da vidite kako to izgleda

)

kFileBox http://kdropbox.deuteros.es/
--> O cemu se ovde zapravo radi? Zvanicni klijent za Dropbox je zapravo ekstenzija za Nautilus, koji je usko vezan za GNOME okruzenje. KDE korisnici koriste Dolphin-a za default file browser. Zato je osmisljen KFilebox. KFilebox je KDE alat za Dropbox na KDE-centricnim Linux distribucijama.


Ninite - najbrži i najfunkcionalniji način za instaliranje softvera!
(ima i za Windows) http://www.mycity.rs/Pretrazivaci-Web-mail-Web-por.....inite.html

Easy Firewall Generator for IPTables - za kernele >=2.4 http://easyfwgen.morizot.net/gen/

Easy Crontab Creation Tool - lako kreirajte crontab unose http://www.clockwatchers.com/cron_tool.html

Generation tool: .htaccess and .htpasswd - laka kreacija unosa za ove datoteke
http://www.clockwatchers.com/htaccess_tool.html

Robots.txt: creation and validation tool - lako kreirajte unose za ovu datoteku http://www.clockwatchers.com/robots_tool.html

mod_rewrite - RewriteRule Generator http://www.webmaster-toolkit.com/mod_rewrite-rewriterule-generator.shtml

LinWiz://PersonalFirewall - simple Linux Workstation iptables boot-script wizard http://www.lowth.com/LinWiz/1.09/PersonalFirewall/fw.pl/iptables

LinWiz://ServerFirewall - simple Linux Server iptables boot-script wizard http://www.lowth.com/LinWiz/1.09/ServerFirewall/fw.pl/iptables

JS/UIX - JavaScript virtual OS and terminal application for the web.
[isprobajte UNIX terminal] http://www.masswerk.at/jsuix/

UNIX time convertor - pretvara u "razmumljiv" oblik i obratno
http://www.onlineconversion.com/unix_time.htm

JoliCloud - isprobajte ovaj operativni sistem iz browsera http://my.jolicloud.com/welcome


HINT: Kako na lak nacin proveriti vasu download brzinu?

--> Downloadujte neku neku Linux distribuciju

(linuksasi imaju vrlo brze servere, ciji resursi skoro pa nikada nisu zauzeti
). Pri tome i isprobajte to sto se skinuli sa neta





==================================

Nazalost odnedavno se tube2tune placa (nema vise free verzije) a bas je bila zgodna alatka... Iznenadio me je OCR alat koji vrlo dobro prepoznaje stil formatiranja stranice. Za dropbox nemam reci koliko je dobar. Takodje sam isprobao sve servise za mobilnu telefoniju. Bloove mi je lepo backupovao sve poruke, kontakte, pozive... [da ne duzim dalje, koga interesuje, proucice malo kako to sve funkcionise]

====================================
Poslao: 29 Okt 2010 16:22
ThePhilosopher, Bog mi te je poslao sa ovim fre my PDF. Šta sve nisam probala ne bi li uspela da odštampam neke (meni važne dokumente). Hvala!
Poslao: 29 Okt 2010 20:01
Zabavljam se satima, šteta je samo što skida zaštitu sa fajlova do 6MB. Uspela sam kod radne sveske za osmi razred, ali već za sedmi ne ide.
Dosetili se iz izdavačkih kuća da onemoguće štampanje zadataka, a mi smo do sada činili, ne bismo li uštedeli novac đacima.