Grasp the Rainbow
Grasp the Rainbow
Poslao: 13 Feb 2008 18:07
"For attractive lips, speak words of kindness.
For lovely eyes, seek out the good in people.
For a slim figure, share your food with the hungry.
For beautiful hair, let a child run his/her fingers through it once a day.
For poise, walk with the knowledge that you never walk alone.
People, even more than things, have to be restored, renewed, revived, reclaimed, and redeemed; never throw out anyone.
Remember, if you ever need a helping hand, you will find one at the end of each of your arms.
As you grow older, you will discover that you have two hands; one for helping yourself, and the other for helping others."

(Audrey Hepburn)(?)

---

"To je ljubav. Pokusacu da se sakrijem ili pobegnem.
Rastu zidovi njene tamnice, kao u strasnom snu. Lepa maska se promenila, ali, kao i uvek, jednistvena je. Cemu moji talismani: bavljenje knjizevnoscu, nepouzdana erudicija, ucenje reci koje je koristio ostri sever da opeva svoja mora i svoje maceve, vedrina prijateljstva, galerije Biblioteke, obicne stvari, navike, mlada ljubav moje majke, ratnicke seni predaka, bezvremena noc, ukus sna?
Biti sa tobom ili ne biti sa tobom je mera moga vremena.
Vec se vrc razbija na izvoru, vec covek ustaje na cvrkut ptice, potamneli su oni koji gledaju sa prozora, ali tama nije donela spokoj.
To je, vec znam, ljubav: nemir i olaksanje kad cujem tvoj glas, cekanje i secanje, uzas zivljenja u buducnosti.
To je ljubav sa svojim mitologijama, sa svojim nepotrebnim malim vradjbinama.
Ima jedan ulicni ugao kojim se ne usudujem da prodem.
Vojske me vec opkoljavaju, horde.
(Ova soba je nestvarna; ona je nije videla.)
Ime jedne zene me odaje.
Boli me jedna zena svuda po telu."

(Horhe Luis Borhes - Pretnja)
Poslao: 02 Maj 2008 23:08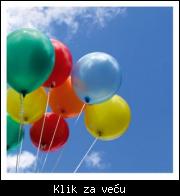 " May God give you ...
For every storm a rainbow,
for every tear a smile,
for every care a promise and a blessing in each trial.
For every problem life sends,
a faithful friend to share,
for every sigh a sweet song and an answer for each prayer."

(Irish Blessing)

---

"The work will wait while you show the child the rainbow, but the rainbow won't wait while you do the work."

(Unknown)

---

"If you want the rainbow, you gotta put up with the rain."

(Dolly Parton?)


Poslao: 26 Sep 2008 19:15
"If thou must love me, let it be for nought
Except for love's sake only. Do not say
'I love her for her smile--her look--her way
Of speaking gently,--for a trick of thought
That falls in well with mine, and certes brought
A sense of pleasant ease on such a day'--
For these things in themselves, Beloved, may
Be changed, or change for thee,--and love, so wrought,
May be unwrought so. Neither love me for
Thine own dear pity's wiping my cheeks dry,--
A creature might forget to weep, who bore
Thy comfort long, and lose thy love thereby !
But love me for love's sake, that evermore
Thou mayst love on, through love's eternity."

~ ~ ~

"How do I love thee? Let me count the ways.
I love thee to the depth and breadth and height
My soul can reach, when feeling out of sight
For the ends of being and ideal grace.
I love thee to the level of every day's
Most quiet need, by sun and candle-light.
I love thee freely, as men strive for right.
I love thee purely, as they turn from praise.
I love thee with the passion put to use
In my old griefs, and with my childhood's faith.
I love thee with a love I seemed to lose
With my lost saints. I love thee with the breath,
Smiles, tears, of all my life; and, if God choose,
I shall but love thee better after death."

(E. B. Browning)

~ ~ ~

"Es ist Nacht,
und mein Herz kommt zu dir,
hält's nicht aus,
hält's nicht aus mehr bei mir.
Legt sich dir auf die Brust,
wie ein Stein,
sinkt hinein,
zu dem deinen hinein.

Dort erst,
dort erst kommt es zur Ruh,
liegt am Grund
seines ewigen Du. "

(Christian Morgenstern)
Poslao: 14 Okt 2008 19:53
"Give me yourself one hour; I do not crave
For any love, or even thought of me.
Come, as a Sultan may caress a slave
And then forget for ever, utterly.

Come! as west winds, that passing, cool and wet,
O'er desert places, leave them fields in flower.
And all my life, for I shall not forget,
Will keep the fragrance of that perfect hour!"

(Translated by: Laurence Hope – 1865 - 1904)

~ ~ ~

"Is there anything sweeter than this hour?
for I am with you, and you lift up my heart –
for is there not embracing and fondling when you visit me
and we give ourselves up to delights?
If you wish to caress my thigh,
then I will offer you my breast also — it won't thrust you away!
Would you leave because you are hungry?
are you such a man of your belly?
Would you leave because you need something to wear?
I have a chestful of fine linen!
Would you leave because you wish something to drink?
Here, take my breasts! They are full to overflowing, and all for you!
Glorious is the day of our embracings;
I treasure it a hundred thousand millions!

Your love has gone all through my body
like honey in water,
as a drug is mixed into spices,
as water is mingled with wine.
Oh that you would speed to see your sister
like a charger on the battlefield, like a bull to his pasture!
For the heavens are sending us love like a flame spreading through straw
and desire like the swoop of the falcon!"

(From an Ancient Egyptian love lyric - Anonymous - c570 - c1085 BC)

I wish to dedicate these two poems to a very special person in my life. To one and only ... emperor of my soul.
Poslao: 15 Okt 2008 17:48
Thank you my dear. It's me ... again.


~ ~ ~

"Omnia Sol temperat
purus et subtilis;
novo mundo reserat
facies Aprilis,
ad amorem properat
animus herilis,
et iocundis imperat
deus puerilis.

Rerum tanta novitas
in sollemni Vere
et Veris auctoritas
iubet nos gaudere;
vias praebet solitas;
et in tuo Vere
fides est et probitas
tuum retinere.

Ama me fideliter!
fidem meam nota;
de corde totaliter
et ex mente tota
sum praesentialiter
absens in remota.
Quisquis amat taliter,
volvitur in rota."

(From pages of Carmina Burana)
Poslao: 03 Nov 2008 14:16
To Be Read In The Morning And At Night

My love
Has told me
That he needs me.

That's why
I take good care of myself
Watch out where I'm going and
Fear that any drop of rain
Might kill me.

(Bertolt Brecht)
Poslao: 23 Nov 2008 01:46
"I used this body
longing
for one who does not come.
A deep valley, now,
what once was my heart"

(Izumi Shikibu)
Poslao: 29 Nov 2008 22:16
"Before you kissed me only winds of heaven
Had kissed me, and the tenderness of rain -
Now you come, how can I care for kisses
Like theirs again?

I sought the sea, she sent her winds to meet me,
They surged about me singing of the south -
I turned my head away to keep still holy
Your kiss upon my mouth.

And swift sweet rains of shining April weather
Found not my lips where living kisses are;
I bowed my head lead lest they put out my glory
As rain puts out a star.

I am my love's and he is mine forever,
Sealed with a seal and safe forevermore -
Think you that I could let a beggar enter
Where a king stood before?"

(Sarah Teasdale)
Poslao: 19 Dec 2008 22:31
A wonderful Message by George Carlin:

The paradox of our time in history is that we have taller buildings but
shorter tempers, wider freeways, but narrower viewpoints. We spend more,
but have less; we buy more, but enjoy less. We have bigger houses and
smaller families, more conveniences, but less time. We have more degrees
but less sense, more knowledge, but less judgment, more experts, yet more
problems, more medicine, but less wellness.

We drink too much, smoke too much, spend too recklessly, laugh too little,
drive too fast, get too angry, stay up too late, get up too tired, read too
little, watch TV too much, and pray too seldom. We have multiplied our
possessions, but reduced our values. We talk too much, love too seldom, and
hate too often.

We've learned how to make a living, but not a life. We've added years to
life not life to years. We've been all the way to the moon and back, but
have trouble crossing the street to meet a new neighbor. We conquered outer
space but not inner space.

We've done larger things, but not better things. We've cleaned up the air,
but polluted the soul. We've conquered the atom, but not our prejudice.

We write more, but learn less. We plan more, but accomplish less.

We've learned to rush, but not to wait. We build more computers to hold
more information, to produce more copies than ever, but we communicate less
and less.

These are the times of fast foods and slow digestion, big men and small
character, steep profits and shallow relationships. These are the days of
two incomes but more divorce, fancier houses, but broken homes.

These are days of quick trips, disposable diapers, throwaway morality, one
night stands, overweight bodies, and pills that do everything from cheer,
to quiet, to kill.

It is a time when there is much in the showroom window and nothing in the
stockroom. A time when technology can bring this letter to you, and a time
when you can choose either to share this insight, or to just hit delete.

Remember; spend some time with your loved ones, because they are not going
to be around forever. Remember, say a kind word to someone who looks up to
you in awe, because that little person soon will grow up and leave your
side.

Remember to give a warm hug to the one next to you because that is the only
treasure you can give with your heart and it doesn't cost a cent. Remember,
to say, "I love you" to your partner and your loved ones, but most of all
mean it. A kiss and an embrace will mend hurt when it comes from deep
inside of you. Remember to hold hands and cherish the moment for someday
that person will not be there again. Give time to love, give time to speak
and give time to share the precious thoughts in your mind.