Kolazh
Kolazh
Poslao: 06 Okt 2007 14:27

offline

Pridružio: 02 Mar 2005
Poruke: 901

being Inside... being outside... being You.. being Someone else... dani su nekad allegro a nekad adagio...znam to po rasporedu prstiju...tonovi su nekad mastiljavi od bluza a nekad svetli od snega koji se topi u martu...sometimes you play just to find the way Out...or In(?)... and sometimes it's just an exercise(or haromny) of your Fingers and your Mind...or just want to stay tuned so that you can Hear The Difference...that means to You... Treba bivati u tudjem svetu, a istovremeno ne napushtati svoj...stvar vezhbe ili osec'aja(?)... sometimes I see the World as a passion for living, but sometimes life is nothing more than Compromise...nekad ti nedostaje ono malo...a (ne)kad te to malo preplavi i (u)gushi...u danu prepoznati nijanse chak i kad ogreznem(o) u krajnosti... primati rechi i muziku intravenozno... to nekad mozhe da spasi trenutak, sat ili chak ceo dan... redjati mozaik od rechi i tonova...sastavljam se od kolazha tudjih a svojih...a klupko se odmotava sa suncima i zvezdama... nekad sa chvorovima a nekad glatko...when you spill milk...nekad su krugovi, a nekad akvarel koji je Dan iscrtao...anda that all is Life...

kindergirl@mycity.rs
Poslao: 07 Okt 2007 00:56
I svi smo mi pesnici, slikari, vajari.. nas zivot je Nase Umetnicko delo (i sad ne znam jesam li ovo smislila ili procitala negde)
Poslao: 08 Okt 2007 03:51
Lavirint. To je svaki/svaciji zivot.
Drzi se lijeve strane i ne boj se.


Draz svega toga je sto nikad ne znas na koga ces naici, jer ne vidis naprijed (a cesto ni nazad). Ostaju samo izbljedjela sjecanja (i koliko god da se mi trudimo da ih bojimo osjecanjima svaki dan - ona i dalje blijede). Ponekad naidjes na osobu koju si srela na samom ulazu (prodje ... X godina ), i dalje se luta, i nekad imas osjecaj da se sve vrti u krug (a ti u sredini zamisljenog), a i dalje se (pro)nalazimo i snalazimo. A tek o tome sta te ceka na kraj puta.


Tesko je i na pocetku i u sredini i na samom kraju. Ponekad naidjes na zid koji stoji na samom (zamisljenom) kraju i nikako ne vidis nacina da ga prodjes. Stojis tako i buljis u njega, ocekujes da se otvore skrivena vrata ali ne ... vrijeme prolazi a ti i dalje cekas. Dok te nesto ili neko ne odvuce od zamisljenog izlaza i pokaze ti drugi pravac. A naravno tu su i oni koji ga prodju za cas. Nekad ne stignu ni da ostave neki trag za sobom. Prodju kao sjene. I nekad se zapitamo da li su stvarno i bili tu ili je to samo magija zamisljenog zivota.

znas ... sanjala sam izmisljen san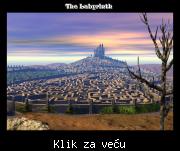 ~ ~ ~

Where is your shoe?
You lost it
When I had to show you the way
Which of us lost?
You, yourself?
I, myself?
Or... we ourselves?
Poslao: 05 Feb 2008 19:32
"Painting is poetry that is seen rather than felt, and poetry is painting that is felt rather than seen."
~Leonardo Da Vinci
Poslao: 06 Feb 2008 00:26
Da Vinci je još i rekao da je slika bolja od pesme (ili slikarstvo od muzike, parafraziram); zato što je u slici momenat 'uhvaćen', zarobljen i sačuvan, a pesma traje i menja se, svi njeni delovi ne mogu biti otkriveni, pokazani u isto vreme...

Poslao: 17 Feb 2008 22:47
"People say that what we are all seeking is a meaning to life. I don't think
that's what we are really seeking. I think that what we are really seeking is...the rapture of being alive. "
Joseph Campbell

"Our life is composed greatly from dreams, from the unconscious, and they must be brought into connection with action. They must be woven together. "
Anaïs Nin

i ova koja mi stvarno mnogo, mnogo znachi:

"This is my simple religion. There is no need for temples; no need for complicated philosophy. Our own brain, our own heart is our temple; the philosophy is kindness."
Dalai Lama